Inuit
Inuit describes the various groups of indigenous peoples who live throughout Inuit Nunangat, that is theInuvialuit Settlement Region of the Northwest Territories and Nunavut of Northern Canada, in Quebec, and Labrador as well as in Greenland. The term culture of the Inuit, therefore, refers primarily to these areas; however, parallels to other Eskimo groups can also be drawn.
Inuit communities are relatively small, with populations ranging from 150 to 5,000 residents. Most have a couple of stores, municipal buildings, an airport, houses, a school or two, an arena and a health centre.
Inuit in Canada have a unique culture, core knowledge and beliefs. Many Inuit live within their distinct homeland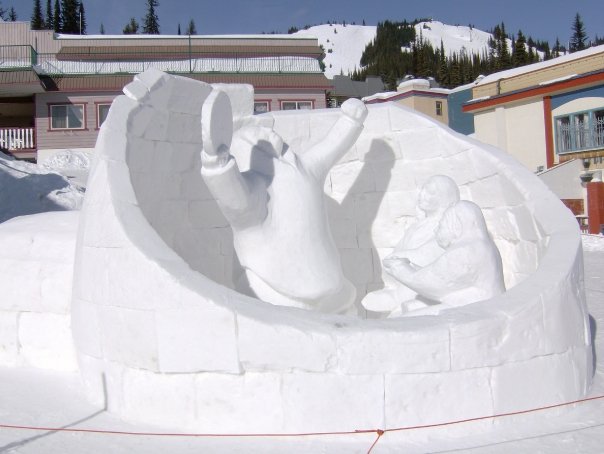 Ice Sculpture at Sun Peaks
---
Inuit continue to maintain their unique culture within their distinct homeland. Despite modern influences and conveniences, Inuit have retained their language, core knowledge and beliefs.
Family is the foundation of Inuit culture and the family is surrounded by a larger social network that includes the rest of the community, even the region. Inuit families are large and interconnected as intricate bonds are formed through childbirth, marriage and adoption.
Hunting is still one of the most important aspects of Inuit culture and lifestyle. Despite the availability of store-bought food, Inuit continue to rely on country food as a source of nutrition and clothing.
Inuit cherish their youth, elders and the generation between them. Elders are given the utmost respect in any community because of their knowledge and wisdom, which they in turn teach to younger generations. Their continuous contribution has kept the Inuit tradition alive.
Many families leave permanent communities during the spring and summer to set up camps. This is an important part of Inuit tradition. Far from modern distractions, the young are immersed in their language, developing their skill and helping to ensure the long-term survival of the culture.
In the North Thompson Valley we are very fortunate to have many Inuit families living in this area, to share in their knowledge and traditions.