Volunteer Executive Team
Cindy Wilgosh: Executive Director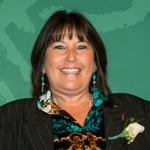 Taanshi! Cindy Wilgosh dishinihkashon (Hello my name is Cindy Wilgosh). I am the Executive Director for the North Thompson Aboriginal Cultural Centre Society, and the Aboriginal Coordinator for Aboriginal Engagement Success By 6 in the North Thompson Valley.
I have lived in Clearwater for 36 years; I am a mother, grandma, and great grandma. I have volunteered with many organizations and service groups over the years, but my heart is with the children, making sure all Aboriginal Children grow to be proud of their Culture, First Nations, Metis, Inuit, and to seek out their ancestry.
In my role as the Aboriginal Engagement Coordinator for Aboriginal Engagement Success By 6. My area is from Blue River to McClure, and through the Cultural Centre we continue to work within these areas, and beyond, to create Cultural awareness.
Together with volunteers from the Cultural Centre and AESB6 we conduct Connection Circles where we connect with families and children to traditional stories, crafts, singing, and drumming.
We host a variety of events, workshops, teachings, and pot lucks where Aboriginal and non-aboriginal people, are always invited and welcomed to participate.
I am looking forward to working with our community partners, members and volunteers to create our Aboriginal village and interpretive centre.
My door is always open.
I look forward to meeting many more of you as we move forward.
Please feel free to contact me with any questions, comments or ideas.
Marsi
"Yours in Community Spirit"
Cindy Wilgosh
Email cindy.wilgosh@gmail.com
Aline Wilkie: Executive Assistant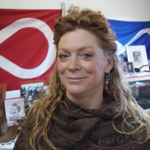 Dr. Aline Wilkie has over 29 years of experience in education as an administrator, psychologist, teacher and special educator. She holds a Doctoral Degree in Education Curriculum and Instruction and a Master Degree in Educational Psychology Guidance and Counselling, both from the University of Regina. Aline's doctoral work involved awakening to issues of colonialism, assimilation, racism and white privilege that exist within Western society and schools, and examined the potential for settler decedents to support the actualization of a post-colonial reality in this land now known as Canada. Aline re-located to the North Thompson Valley in 2013 and has been involved as both a volunteer and a member of the management team at the North Thompson Aboriginal Cultural Centre Society for the past year.
Aline's work in education was focused on First Nations and Métis Education, Environmental Education, Restorative Justice and Alternative Education programs both at the Elementary and High School level. She worked extensively over her career writing proposals and receiving funding support for several educational initiatives including: The Reimagining Community Schools Project funded by The First Nations and Métis Initiatives Fund, Telling Our Shared Stories of the Treaties Project funded by the Saskatchewan Arts Council Treaty Research Grant, Strengthening Communities and Enhancing Youth Through Partnerships with the First Nations and Métis Community Project funded by the Saskatchewan Partnership Explorations Program Research Grant, and The Food for Learning Project funded by the Breakfast for Learning Grant. Aline also worked on several research projects to bring a Restorative Justice Approach to school discipline and behavior support. She received funding for several alternative approaches to Special Education including a three year funded research project which examined the effects of changing classroom environments and providing tools to support children's specific learning needs. Aline also initiated and received funding for several pilot projects in environmental education and school grand naturalization projects receiving funding from several granting agencies including Action 21, EcoAction 2000, The Evergreen Foundation and The Canadian Wildlife Federation.
In 2014 Aline began to work as the Senior Manager of the North Thompson Aboriginal Cultural Centre Society. Her current work is focused on Policy creation and implementation, grant applications and project proposals, funding for educational projects connecting youth with Elders and traditional knowledge holders and other management duties.